6. Francisco Lirano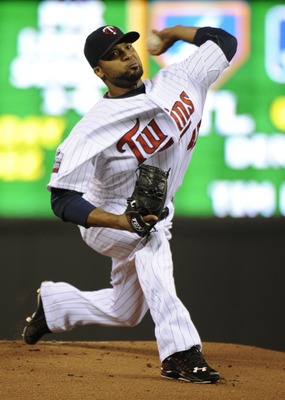 Hannah Foslien/Getty Images
Francisco Liriano is healthy and ready to contribute to the Minnesota Twins, but this live-armed, left-handed pitcher came up through the Giants' system.
Giants fans dread the date Nov. 14th, 2003. On this date, Brian Sabean dealt Liriano, current Twins closer Joe Nathan, and Boof Bonser to the Twins for A.J. Pierzynski, who would be released a year later.
After years of health battles, Liriano pitched a formidable 2010 campaign. In 191.2 innings pitched, Liriano posted a 14-10 record, with a 3.62 ERA and 201 strikeouts.
According to Kelly Thesier of MLB.com, the Twins see the arbitration-eligible Liriano as part of their future, but are hesitant to sign him beyond 2011. Liriano is seeking $5 million, but the Twins do not want go that high.
With Lincecum, Cain, Bumgarner, and Sanchez, the pain from 2003 has soothed dramatically, but Liriano is still capable of greatness.
7. Joe Nathan
Tom Hauck/Getty Images
Joe Nathan is another pitching star who slipped away from the Giants in the Pierzynski deal, but fans are not complaining about the current Giants closer.
As a starting pitcher in the Giants' organization, Nathan stood out. During his time at A San Jose, Nathan posted a 3.32 ERA with 118 strikeouts and led the A Giants to the California League Championship.
On Apr 21, 1999, Nathan pitched seven shutout innings in his major league debut against the Florida Marlins. He had promise but could not completely put it together as a starter, finishing with an ERA of over five in 2002.
After a solid 2003 season as a reliever, although blowing a save in his first postseason appearance against the Marlins, Nathan was traded to Minnesota. The Twins stumbled upon a gold mine.
In 2004, Nathan closed for the Twins. In his first full season as a closer, Nathan posted an impressive 1.62 ERA and saved 44 games in 47 opportunities.
In his last full season (2009), Nathan converted 47 saves, with a 0.93 WHIP and 2.10 ERA. If he can successfully return from injury, Nathan may have a few more good seasons left in him.
According to the Minneapolis Star, Nathan has started throwing breaking balls en route to his return from Tommy John surgery. He threw a bullpen session last Sunday, as he was in Minnesota for TwinsFest.
8. Rod Beck
Otto Greule Jr/Getty Images
Before Nathan, the Giants struggled to produce great talent out of their farm system. Although the Oakland Athletics drafted Rod Beck, he blossomed in the Giants' organization.
In 1989, Beck's 11-2 record at A San Jose opened the eyes of the Giants. He was promoted to AA and continued to pitch well in the minors.
In 1992, Beck took over Dave Righetti's closer role. He posted a 3-3 record, converted 17 saves, and had a 1.76 ERA in 65 games (he was not the closer in all of them).
Rod Beck continued his success as a closer in the following years. In the 1997 season, Giants fans saw what Beck was really made of.
On Sept. 18, 1997, Beck pitched the top of the 10th inning in the Brian Johnson home run game against the Los Angeles Dodgers. With the score tied 5-5, and the Giants one game behind the Dodgers for the NL West lead, the Dodgers loaded the bases on three consecutive singles.
Seeing that Beck was struggling, Manager Dusty Baker paid a mound visit and told him, "You're the guy." Having lost the closer's job to Roberto Hernandez, Beck proved he had something left.
He proceeded to strike out Todd Zeile looking on an inside-corner fastball. With the bases still loaded and one out, Beck induced Eddie Murray to bounce a splitter into an inning-ending double play.
The crowd of 52,188 at Candlestick Park clamored with delight. Two innings later, backup catcher Brian Johnson gave the crowd reason to be elated again, as he hit a game-winning home run that beat the Dodgers 6-5.
Beck was traded to the Cubs in 1998 and did have some good years with the Padres. However, Giants fans will not forget the legacy Beck left in San Francisco.
Sadly, Beck passed away in 2007 due to a drug overdose, according to his ex-wife.
9. Matt Williams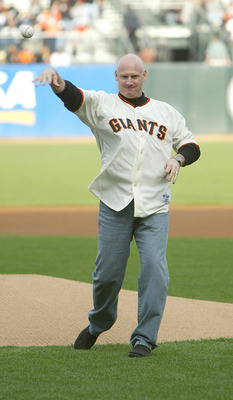 Justin Sullivan/Getty Images
Before "Pat the Bat," "Matt the Bat" patrolled the field for the Giants.
Pat Burrell and other Giants fans had the pleasure of watching Matt Williams play in the 80s and 90s. His great defensive skill and dangerous bat in the minor leagues prompted the Giants to call him up in 1987.
Williams, who was a first-round draft pick for the Giants in 1986, played in his first full season in 1990. That year, Williams hit .277, with 33 home runs and 122 RBIs.
Williams was traded to the Indians in 1997 as part of the Jeff Kent deal, but his success did not end. In 2001, he won the World Series with the Arizona Diamondbacks.
Williams is also tied for the Arizona Diamondbacks' all-time single-season RBI record at 142. He is currently the third base coach for the Arizona Diamondbacks.
10. Will Clark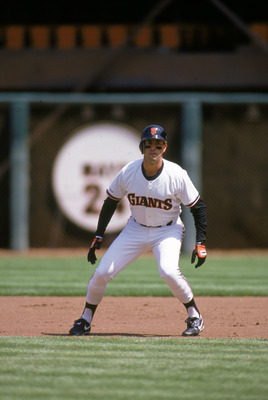 Otto Greule Jr/Getty Images
Will "The Thrill" Clark debuted with the Giants on April 8, 1986. In his 15-year big league career, he hit .303, with 284 home runs and 1,205 RBIs. Currently, he works with the Giants in their front office, and fans love him just as much today as they did back when he played.
On opening day in 1986 at the Houston Astrodome, the rookie Clark stepped up against the Astros' Nolan Ryan. Clark, unfazed by his greatness, hit a Ryan fastball out of the ballpark. It was his first swing he ever took in the major leagues. The Giants ended up winning the game 8-3.
Clark's peers recognize him as one of the best clutch hitters of his time.
One clutch hit came during Game 5 of the 1989 NLCS when Clark broke a 1-1 tie against the Cubs in the bottom of the eighth inning. After an epic at-bat, fouling off two-strike pitch after two-strike pitch, Clark singled to center against Cubs closer Mitch Williams, giving the Giants a 3-1 lead and sending them to the World Series.
Oddly enough, in his minor league debut, Clark hit a home run against none other than Dodger great Fernando Valenzuela.
This article was featured on the Bleacher Report
Follow me on twitter @vintalkingiants
Questions? Comments? Feedback? E-mail my blog mailbag at vc4re@yahoo.com. Your question may be posted on my blog, along with answers.