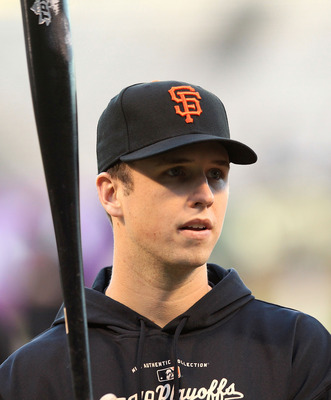 Ezra Shaw/Getty Images
The San Francisco Giants struck out in developing major league talent for most of the 2000s, but that trend has turned around recently.
Born and bred within the Giants' organization, Tim Lincecum, Matt Cain, and Buster Posey are emerging as perennial superstars in the major leagues. They have demonstrated leadership and poise during baseball's biggest stage, the World Series.
Many formidable predecessors donned the orange and black on day one of their professional careers. Will "The Thrill" Clark was one of them, along with many others.
Posey has lived up to the hype so far, but who else in Giants history has preceded Posey? Here are the last 10 Giants' prospects who lived up to the hype.
1. Buster Posey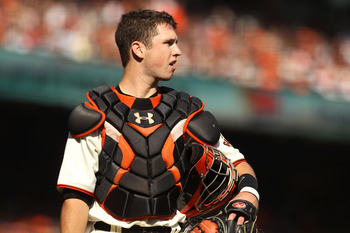 Ezra Shaw/Getty Images

Buster Posey made his major league debut on Sept. 11, 2009 against the Los Angeles Dodgers. Although Posey looked foolish on a check-swing strikeout during his first major league at-bat, the AT&T Park crowd roared with excitement for their up-and-coming rookie sensation -- and with good reason.

Posey did not have many half-hearted strikeouts in 2010. In his first full rookie season, Posey hit .305, with 18 home runs and 67 RBIs, in 108 games.

If Posey can replicate his success in 2011 and beyond, the Giants may have a future Hall of Famer on their hands. Leading his team to a World Series title in his rookie season is an impressive feat.

If Posey stays healthy, he will live up to the hype -- and more.
2. Madison Bumgarner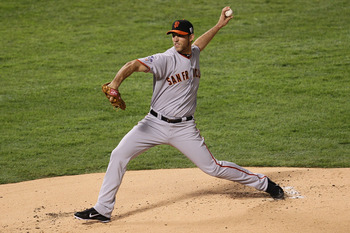 Stephen Dunn/Getty Images
On Sept. 8, 2009, the Giants were vying for a Wild Card spot with the Colorado Rockies. When Tim Lincecum was unable to make the start in a crucial pennant race game against the San Diego Padres, pitching phenom Madison Bumgarner stepped up to the challenge in his major league debut.
Although Bumgarner lost the game, he pitched well. In five and one-third innings of work, he gave up just two runs on five hits and walked one -- even when he lost about 7 mph on his fastball since the beginning of that year.
Fast forward to 2010. Having already pitched a big game in a pennant race in 2009, nothing seemed to faze the 21-year-old left hander.
Although Bumgarner had some rough outings at AAA Fresno, he was ready for a big league challenge. In 18 starts, Bumgarner finished 7-6 with a 3.00 ERA and a 1.31 WHIP.
These solid numbers do not even tell the whole story. Game 4 of the 2010 World Series was certainly one to remember for Bumgarner.
In baseball's biggest stage, Bumgarner dazzled in front of a national audience. In his eight shutout innings, he yielded three hits and two walks, while striking out six Rangers.
Bumgarner is no ordinary rookie. When he takes the mound, he looks like he owns the mound. He has the confidence of a 15-year veteran, and the heart of a champion.
3. Tim Lincecum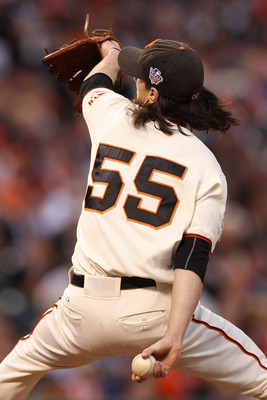 Jed Jacobsohn/Getty Images
Tim Lincecum was no stranger to the national stage, even before his legendary 2010 playoff performance.
After learning about the live arm of the freakish-looking right hander, Giants fans were excited when Lincecum made his major league debut on Sunday Night Baseball. The day was May 6, 2007.
His first big league pitch was to the Philadelphia Phillies' Jimmy Rollins. The pitch was clocked at 97 mph, leaving Giants fans roaring with excitement, as they gazed amazed at the radar reading.
Lincecum took the loss that night, pitching just four and one-third innings, giving up five hits, walking five, striking out five, and surrendering four earned runs. That night may not have been pretty, but the Giants knew they had something special -- if Lincecum could control his pitches.
He did.
Lincecum developed a change-up (or split-finger), won a couple Cy Young Awards, and lost a few feet on his fastball along the way, but his lines became better and better as time progressed. He was changing from a thrower to a pitcher.
Although Lincecum had a horrible August in 2010, he shined in September and the postseason. His 14-strikeout, complete-game shutout in Game 1 of the NLDS against the Braves demonstrated Lincecum's capabilities when everything comes together for him.
Then came every child's dream -- winning a clinching World Series game. He did that and made it look easy during Game 5 of the 2010 World Series.
On that fateful night, Lincecum pitched eight strong innings, giving up one run on three hits and striking out 10. Expect more of these thrilling moments from him.
4. Matt Cain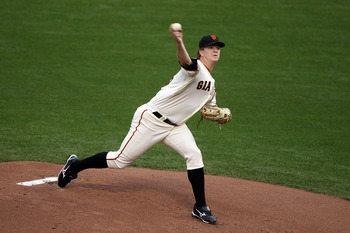 Ezra Shaw/Getty Images
Matt Cain was another highly touted pitcher within the Giants' ranks. However, at times, it seemed as though Cain's lack of run support was holding him back.
Making him the longest tenured Giant, Matt Cain debuted during the Barry Bonds era against the Colorado Rockies on August 29, 2005. He was only 20 years old.
Cain gave up just two runs and three hits in five innings on that night, but lost the game 2-1. That game served as a microcosm of how his next few seasons would fare for the gutsy righty.
In 2007, Cain finished the season with a 3.65 ERA, good for the 10th lowest in the National League. However, the Giants went 9-23 in his starts and scored two runs or fewer in 21 of his starts.
As the Giants got better, Cain emerged as a candidate to strip Tim Lincecum of his ace status. He has yet to give up an earned run in postseason play and had a phenomenal 2010 season.
With his blazing 91-93 mph fastball that blows away hitters as if it were 98 mph, Cain finished 2010 with a 13-11 record, with a 3.14 ERA, 177 strikeouts, and a solid 1.08 WHIP.
Expect more good things to come from Cain.
5. Jonathan Sanchez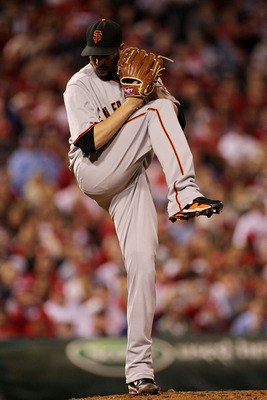 Doug Pensinger/Getty Images
In 2006, Baseball America ranked Jonathan Sanchez as the sixth best prospect in the Giants' organization. In 13 appearances (three starts) at AA that year, Sanchez went 2-1, with a 1.15 ERA.
The Giants were intrigued by Sanchez and called him up in May 2006. He made his major league debut on the day Barry Bonds hit home run number 715 against the Colorado Rockies, retiring Todd Helton, Matt Holliday, and Garrett Atkins in order.
Sanchez would go through ups and downs from 2006-2009 but put it together in 2010. He still had his moments, but Sanchez grew up dramatically as a pitcher that year.
In his best season as a big league player, Sanchez went 13-9 for the Giants, had a team-leading 3.07 ERA, 205 strikeouts, and a 1.23 WHIP, despite leading the league in walks. He was incredibly hard to hit, as batters hit just .204 against him.
Sanchez had his brain lapses in the 2010 postseason, but he still pitched well in big games in September, including the National League West clincher. At 28, Sanchez is still improving and has the potential to measure up to his companions in the rotation.
For more on Jonathan Sanchez, see this article
here
.
This article was featured on the Bleacher Report

Follow me on twitter @vintalkingiants
Questions? Comments? Feedback? E-mail my blog mailbag at vc4re@yahoo.com. Your question may be posted on my blog, along with answers.