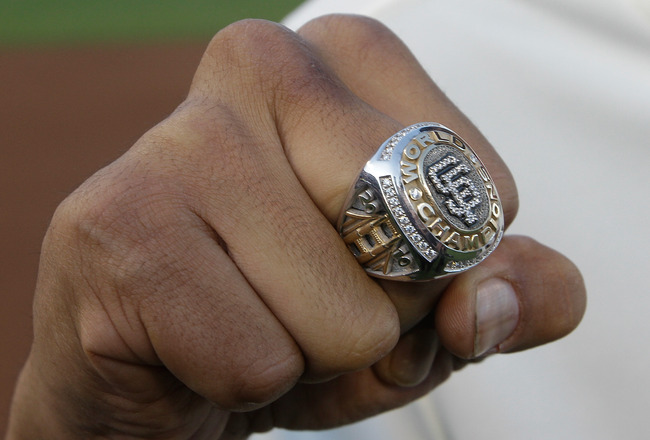 The 2010 San Francisco Giants will wear their championship rings proudly for the rest of their lives.
Pool/Getty Images
By Vince Cestone
The 2010
San Francisco Giants
won the National League Pennant, and then the World Series, with superb pitching, just enough hitting, and virtually error-free baseball--three keys to success for just about any winning team.
This year is no exception for National League Contenders. These canons for success, along with many more, could be a major factor in determining who will win the National League Crown--or even reach the postseason.
Deviating from playing good baseball, even for a week's stretch of games, could be the difference between achieving baseball immortality or going home hanging your head. With strong, well-rounded teams like the Philadelphia Phillis dominating the league with a 77-40 record, any contending team that slumps in any facet of the game come the NLDS or NLCS will probably suffer a disappointing fate.
With eyes on the World Series prize, here are some keys to the National League pennant for all six contending teams.
1. The San Francisco Giants: The Offense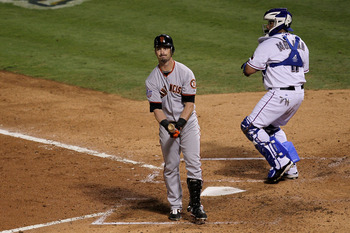 Stephen Dunn/Getty Images
The San Francisco Giants may be a strong contender in the National League West, but their offensive numbers are those of cellar dwellers.
With the Giants dead last in the league in runs scored with 402, the Giants are fortunate they are just one game back of the
Arizona Diamondbacks
in their division. Certainly, the key to success for San Francisco is to sustain their excellent pitching staff, but more importantly, they need to improve their hitting, especially their miniscule .303 team on-base percentage.
Giants' manager Bruce Bochy offered his own explanation as to why his team is stuck in this two-week rut.
"Right now, their confidence is shaken," Bochy said to the
San Jose Mercury News
. "And that comes from not having success."
If the Giants want to stay in contention and ultimately win the West, the Giants better find the confidence soon.
The Giants attempted to jolt their offense by acquiring Carlos Beltran from the
New York Mets
in exchange for pitching prospect Zack Wheeler. However, Beltran has struggled since joining San Francisco, hitting .244, with no home runs and two RBIs in 11 games.
The 2010 World Series champion Giants were at least in the middle-of-the-pack in hitting. That fateful team finished 9th in the league in runs scored, a far cry from this year's abysmal offensive team, who ranks near the bottom in just about every offensive category.
Despite the offensive struggles, Giants' outfielder Cody Ross is confident his team will turn around their offensive woes.
"We've got a lot of baseball to play yet," Cody Ross told the
San Jose Mercury News
. "We've got to go out and play like champions. We're not doing it. We're kind of all in a rut."
2. The Arizona Diamondbacks: The Bullpen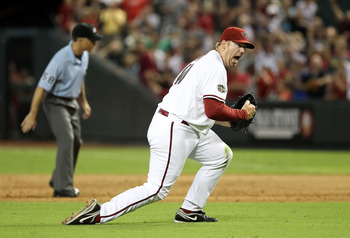 Christian Petersen/Getty Images
The Arizona Diamondbacks' 2010 Achille's heel is starting to become their strength.
A season ago, Arizona ranked dead last in the National League in bullpen ERA at 5.74. In 2011, the Diamondbacks rank 12th in that same stat at 3.83.
What makes their bullpen stats so impressive is they were third-to-last in the league in bullpen ERA as April ended (4.89). At the end of that month, they were 6.5 games out of first place and in fourth place.
Now, as their bullpen ERA has steadily shrunk as the months wore on, the Diamondbacks climbed up in the standings. The snakes currently find themselves in first place, one game ahead of the Giants.
Part of the Diamondbacks' bullpen resurgence could be attributed to the acquisition of closer J.J. Putz. In his first season with the Diamondbacks, Putz has a 2.90 ERA, with 27 saves and a 1.066 WHIP.
With their powerhouse offense that ranks first in the National League with 132 home runs, a shutdown bullpen would undoubtedly make Arizona one of the elite teams in the National League--even one that could challenge the Philadelphia Phillies.
3. The St. Louis Cardinals: Beating the Brewers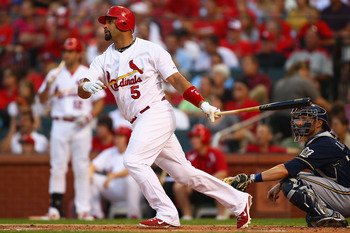 Dilip Vishwanat/Getty Images
The St. Louis
Cardinals
have a formidable foe to get past if they want to claim the National League pennant.
Even after tonight's 5-2 victory over the
Milwaukee Brewers
, the Cardinals are 3-8 against their divisional rival. In their most recent series, the Cardinals were able to salvage one game of the three-game series in St. Louis, pushing them up to four games behind Milwaukee.
Despite their struggles against them in 2011, Cardinals' slugger Albert Pujols said they do not see the Brewers as any different than others teams they play.
"We approach every team the same way," Pujols told Matthew Leach of
MLB.com
. "We have a game plan and we're going to go out there and hopefully try to execute. As a player, they pitch you different until you try to adjust. But I think, as a group, we have a good approach to go out there and take it and figure it out the first couple innings. If it doesn't work, hopefully try to make an adjustment."
If the red birds want to win the NLCS, or even get there, they must climb over their four-game hurdle against the Brewers. It starts with beating their rival head-to-head.
4. The Milwaukee Brewers: Winning on the Road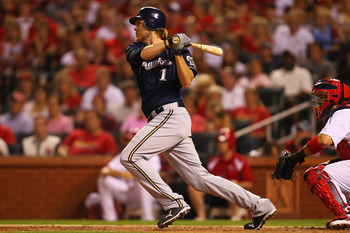 Dilip Vishwanat/Getty Images
As the old adage says, good teams take care of business at home and play .500 on the road. Well, the Brewers got it half right--with an exclamation point.
Milwaukee boasts the best home record in baseball with a 41-15 record. As for playing .500 on the road, the Brewers have a long way to go.
Their 26-36 road record is not hurting them now, as they sit in first place four games ahead of the St. Louis Cardinals, but it could have a detrimental effect come the playoffs.
If the Brewers do make the playoffs, they will have to pass through some hostile towns--Philadelphia, San Francisco, or
Atlanta
. This season, Milwaukee is just 3-7 against those three teams on the road.
A little road warrior spirit would go a long way towards the Brewers' march to the NL pennant.
5. The Atlanta Braves: Jason Heyward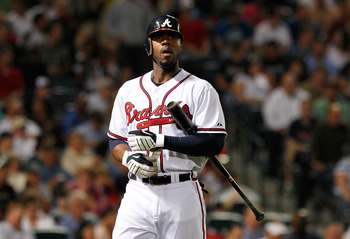 Kevin C. Cox/Getty Images
Jason Heyward sparked lots of excitement in Atlanta last year, and he looked like their future offensive star, but the old sophomore slump has plagued the tall outfielder.
After coming off a solid rookie season--.277, 18 homers, and 72 RBIs in 142 games played--Heyward is not enjoying much success in his second year in the big leagues. In 2011, he is hitting just .218, with 12 home runs and 30 RBIs.
Heyward was an on-base machine last year with a .393 OBP, but in 2011, that stat has fallen dramatically to .313. With the Phillies dominating the National League, and their division, the Braves will need every ounce of offense to get through a Philadelphia staff that is a bit better than their own.
With Heyward's struggles, hot-hitting rookie Jose Constanza has recently replaced Heyward in the outfield for a few games.
Although he is disappointed he is not starting as much right now, Heyward knows he will be that spark plug again.
"Now that I have a little bit more free time, I'm able to clear my head some more and get rest," Heyward said to the
Atlantic Journal Constitution
. "It's positive. Everybody sees I'm the same guy in the clubhouse. It's not about me. I'm here for the long run, and hopefully I can get back to where I'm producing on a daily basis."
6. The Philadelphia Phillies: Staying Healthy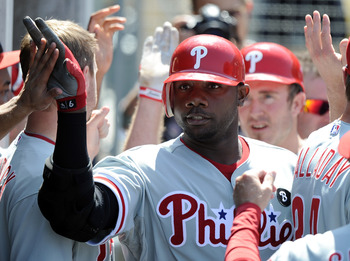 Harry How/Getty Images
The Philadelphia Phillies are an extraordinarily good team that is excellent in all facets of the game.
The biggest key for the Phillies is to ride the ship and stay healthy. At 77-40, they almost can sleepwalk to the NLDS, even stumble over the stairs a few times, and then kick it in gear to win the National League Championship Series.
The Phillies have a dominant pitching staff of aces that leads the National League in ERA at 3.09. They also lead the league in defense, making only 53 errors in 117 games.
Combine that with a team 7th in the league in hitting, especially in this pitching-dominated era, you have a juggernaut in the National League. The Phillies will be tough to beat--as long as they stay healthy.
Roy Oswalt is now 33, Roy Halladay is 34, and Cliff Lee is 32. While they are not checking into a retirement home in Miami anytime soon, the dynamic pitching trio has pitched a long time.
An injury to one key player might be able to be dealt with. If injuries start to pile up, the Phillies might see themselves eliminated after the NLDS.
Sure, even if the Philles pull out another Vance Worley out of their hat, it cannot replace the experience of Lee, Oswalt, Halladay, and Cole Hamels. You never know what could happen in baseball.
This article was featured on the Bleacher Report.
Follow me on twitter

@vintalkingiants

.
Questions or comments? E-mail my blog mailbag at vc4re@yahoo.com. Your questions may be answered on my blog.
Be sure to use the #talkinggiants tag when referring to my article on twitter.
Don't forget to take my poll on the left of my site.
Add me on Facebook. Click here.