By Vince Cestone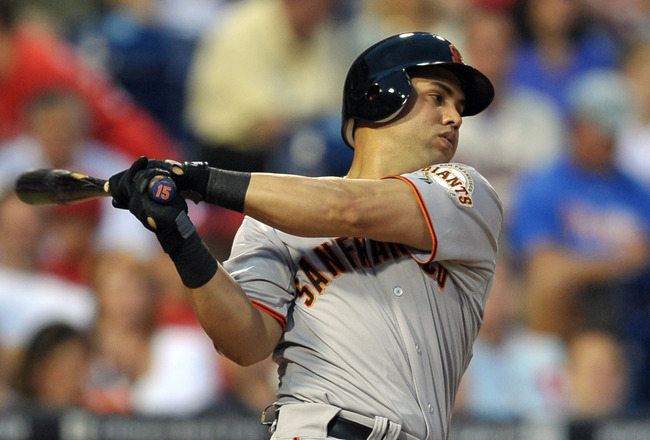 Carlos Beltran is batting .244, with zero home runs and two RBI, in 11 games with the Giants.
Drew Hallowell/Getty Images
The
San Francisco Giants
will have nine big questions to answer once the 2011 season ends.
Nine men off their 2011 roster will hit free agency this winter, and the Giants will more than likely bid farewell to most of them—especially the aging veterans. Such company might include injury-prone players such as Mark DeRosa, Pat Burrell, and
Carlos Beltran
.
Beltran
, essentially a two-month rental, was the Giants' answer to their offensive enigma that ranks dead last in the National League in runs scored. Unfortunately for San Francisco, Beltran has been an unfortunate enigma himself.
The slugging outfielder was placed on the 15-day disabled list last Tuesday with a wrist injury and has hit just .244, with no home runs and two RBI in 11 games with the Giants. Due to his frequent stints on the disabled list and his gargantuan upcoming contract standard of Scott Boras clients, the Giants will more than likely seek other offensive outfield options in 2012.
On the flip side, here are five impending free agents the Giants have a chance of re-signing this winter.
1. Cody Ross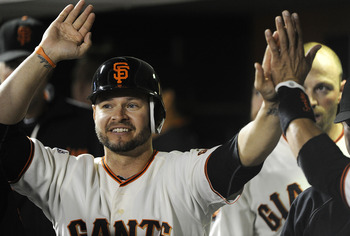 Thearon W. Henderson/Getty Images
The 2010 NLCS MVP would love to rejoin San Francisco in 2012, and the Giants' feeling seems to be mutual.
According to
Andrew Baggarly of the San Jose Mercury News
, Ross talked to Giants' officials during spring training about a possible contract extension.
While he is intrigued with testing free agency, Ross told Baggarly he would prefer to stay in San Francisco.
"I've let them know that's what I want," Ross said. "Free agency would be cool to experience, but I know what this team is about and where it's going. We have a great thing here, and I want to stay."
Baggarly also reported that the Giants will revisit extension talks later in the season.
Ross would be an excellent backup outfielder or possibly a starter, depending on who the Giants sign this offseason. While he is streaky at the plate, he has shown he can get a big hit, play all three outfield positions, and has a decent glove.
Plus, the Giants would probably love to keep those "Ross is Boss" shirts selling at AT&T Park.
2. Javier Lopez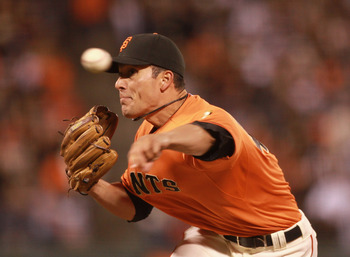 Ezra Shaw/Getty Images
While no recent news has indicated the Giants will resign Javier Lopez, the Giants would probably welcome the chance of bringing their crafty lefty back.
The Giants' strength for the last couple of years has been their bullpen. This year is no exception.
San Francisco leads the National League in bullpen ERA at 2.93.
Lopez has contributed to the Giants' elite bullpen staff with a 2.49 clip this season. He has struck out 37 batters in 47 innings pitched, while walking 24.
If the Giants want to be successful in an age where pitching dominates, combined with their hitting woes, they should maintain their strength and keep their dominant left-hander.
3. Guillermo Mota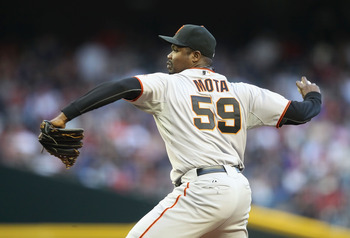 Christian Petersen/Getty Images
He is big, bad, reliable, a bullpen saver, and can even hit a little bit.
While he lacks the glitz and glamor of a Brian Wilson or Tim Lincecum, Guillermo Mota has been indispensable to the Giants in 2011. The quality innings he has been able to throw at age 38 has been remarkable.
Age has not compromised Mota's snap on his pitches either—in fact, Mota has been throwing with more pop. This season, Mota has a 3.92 ERA, but has pitched 61.2 innings in 40 appearances, with 58 strikeouts and just 20 walks.
During the course of a 162-game marathon season, a solid long reliever could be invaluable to a team. Although Mota's upper-90s days are past him, he could find a role in San Francisco next season as the league's best mop-up man.
4. Orlando Cabrera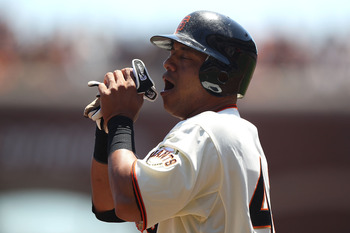 Jed Jacobsohn/Getty Images
With the Giants looking at Brandon Crawford as their shortstop of the future, they may want a veteran right-handed backup with playoff experience off their bench.
Orlando Cabrera, while not lighting it up with his .240 batting average this season, can be a valuable asset to any club making a postseason run. Cabrera has reached the postseason six out of the last seven years, including a World Series Championship ring with the
Boston Red Sox
in 2004.
Although he is more suited for a bench role at this stage of his career, injuries and necessity have forced Cabrera into a starting position at shortstop.
While his .228 career postseason batting average seems unimpressive, Cabrera is still capable of getting a big hit off the bench. He has a .417 batting average in 12 at-bats with the bases loaded this season.
As Giants' broadcaster Mike Krukow said of Cabrera: The bigger the at-bat, the more dangerous he is.
5. Ryan Vogelsong
Thearon W. Henderson/Getty Images
Just one year ago, Ryan Vogelsong thought he would never toe the rubber on a major league mound again.
A year later, he is an All-Star and second in the National League in ERA.
The Giants did not envision Vogelsong anchoring their pitching staff which contains the likes of Tim Lincecum and Matt Cain. However, destiny had other plans.
Now that the Giants traded away top pitching prospect Zack Wheeler to the
Mets
, their pitching depth has plummeted, but Vogelsong alleviated what could have been a disastrous situation starting-pitching wise for San Francisco. Vogelsong's contributions should be highlighted even more so with the struggles of Jonathan Sanchez and Barry Zito.
Simply put, without Ryan Vogelsong, the Giants might not be in the position they are in now. Arguably the ace of the Giants' 2011 starting staff, his 10-2 record is a major reason why they are just 2.5 games behind
Arizona
in the National League West.
While there is no recent news regarding Vogelsong's status with the Giants in 2012, they may want to lock him up for next season if they want to keep a solid staff 1-5.
It also could be that with all the misfortunes plaguing the 2011 Giants, Vogelsong could be the man keeping them going, giving them hope to finish the season strong and showing them that anything is possible in baseball.
This article was featured on the Bleacher Report.
Follow me on twitter

@vintalkingiants

.
Check out my YouTube page for exclusive interviews with San Francisco Giants' prospects and more.
Questions or comments? E-mail my blog mailbag at vc4re@yahoo.com. Your questions may be answered on my blog.
Be sure to use the #talkinggiants tag when referring to my article on twitter.
Don't forget to take my poll on the left of my site.
Add me on Facebook. Click here.