It is a clear, cool night at Municipal stadium, as the San Jose Giants' speedy center fielder Gary Brown patiently awaits for a pitch in a 1-1 third-inning tie against the Lancaster JetHawks' right-hander Robby Donovan.
Then, like a 10-year major league veteran, the leadoff hitter Brown takes an outside fastball and laces it up the middle for what appears to be a routine single to center field.. As fans appear content with a leadoff runner at first, Brown suddenly dashes towards second base, as the JetHawks' center fielder fields the ball and fires to second.
Brown slides in safely, and it was not even close.
Brown started with the San Jose Giants, the Class A affiliate of the
San Francisco Giants
, in April 2011. He was selected in the first round (24th overall) of the 2010 Major League Baseball draft.
The fleet-footed center fielder is rated third among all prospects in the Giants' organization according to
Baseball America
. The publication also designated Brown as the "fastest baserunner" and "best defensive outfielder" in the Giants' system.
Brown tasted the major leagues briefly in 2011 when he was a non-roster invitee in spring training for the Giants. One of his big accomplishments there was an extra-inning, walk-off single against the
Los Angeles Dodgers
.
Although Brown has much to prove before he is penciled in as the every day center fielder at AT&T Park, here are five reasons as to why he will be the next great Giants' superstar.
His Speed (Offensively)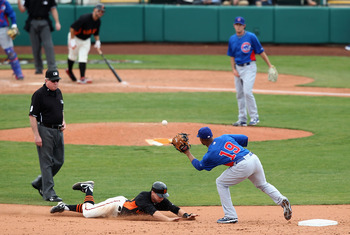 Christian Petersen/Getty Images
Brown was drafted by the Giants for his speed, and he looks forward to using it successfully during his professional baseball career.
"The most obvious key to my success is my legs, running," Brown said. "I just got to learn how to use that to the best of my ability."
Brown has been impressive on the basepaths in 2011 for the A Giants. In 36 games, he leads the California League with 22 stolen bases.
The speedy center fielder has been thrown out 10 times in 2011 but has lots of time to tune up his baserunning ability. He is confident that he could live up to his potential and develop into a great base stealer.
"I believe I have an opportunity to disrupt guys on the bases," Brown said. "I'm just trying to get better every day...staying calm and not getting ahead of myself."
Brown would add another dimension to the major league Giants' offense. The Giants currently have another excellent runner in the organization, Darren Ford, who already has demonstrated how speed could help a big league team win.
Baseball America
considered Brown the fastest man in the Giants' organization, but he said Ford may have the slight edge if they were to race.
"We joked about that in spring training," Brown said. "It would be close, but I think he's got me."
His Potent Bat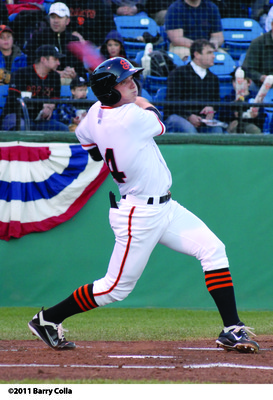 Brown compliments his speed with a solid bat. He is tearing up the California League and will continue to get better with experience.
In his 150 at bats, Brown has been an on-base machine. Since starting with the A Giants in 2011, he is hitting .367 with three home runs, 30 RBIs, and an impressive .445 on-base percentage.
Brown is also slugging .513 with a .958 OPS. Giants fans will be impressed with the 22-year-old's professional, disciplined plate approach at such a young age.
Brown's philosophy is to be patiently aggressive at the plate. Although he is not one to take a bunch of walks, he already has shown enough plate discipline to wait for his pitch or hit a knee-high outside fastball hard up the middle.
"When you go up to the plate, you can ask any hitter," Brown said. "They're not going to say they're trying to walk. Just see pitches, and if they don't give them to you, you try to lay off them."
Brown has the right mentality to be a great hitter in the major leagues. As he gets wiser and stronger, he just may evolve into one of the greatest hitters in baseball.
His Defense
Baseball America
rated Brown as "the best defensive outfielder" in the Giants' organization, and so far, with the A Giants, he has shown why.
With his cannon arm, excellent range, and blazing speed, Brown has the potential to be a perennial gold glover in the major leagues.
Brown has not had impressive defensive numbers yet, but he has shown he has the tools. In 33 games played in center field, Brown has a .970 fielding percentage and has made two errors along with three assists.
Brown is not worried about his defense, and he is confident he will improve.
"I'm just trying to do my best in...taking good routes and just staying calm and not getting ahead of myself," Brown said.
Still, Brown has shown great range, an excellent arm, and the ability to track down balls that would normally get down for hits.
"I believe I have an opportunity...in the outfield to steal some hits and make good throws...just all around finding a way to use my legs," Brown said.
His Focus
Ezra Shaw/Getty Images
Although Brown is a young, rising superstar prospect, he knows that he cannot get ahead of himself. His focus must remain on the field in which he can control -- where he is playing right now.
Even though Brown hopes to someday patrol the wide-open spaces of AT&T Park's outfield, he will take his game one step at a time.
"Right now, my home is here at Municipal Stadium, so when I get the opportunity to play there,
I'll worry about it," Brown said. "For right now, it's the 390 in center."
His Confidence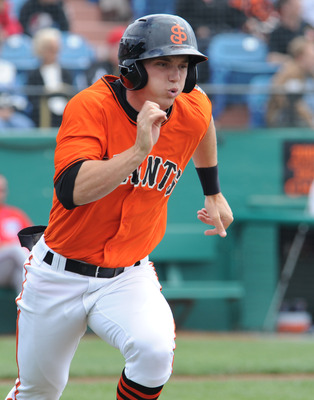 Tommy LaPorte/San Jose Giants
At just 22, Brown displays the swagger and confidence of a 10-year veteran.
The young, well-spoken center fielder does not hold anything back. He is an all-out baseball player who is sure of himself and will use everything he has in the gas tank.
"I hope for an opportunity to show what I can do," Brown said. "I'll do my best to play hard every day."
When the major league Giants' manager,
Bruce Bochy
, and the general manager, Brian Sabean, mull over whether or not Brown should patrol AT&T Park's big center field, he is ready to demonstrate his game to them. Still, he understands the decision will ultimately be the Giants'.
"If they say I'm ready, I'm ready," Brown said. "I don't need to pitch it to them."
With Brown's confident attitude, he could very well be the next big league Giants' captain.
This article was featured on
The Bleacher Report
.
Follow me on twitter
@vintalkingiants.
Questions or comments? E-mail my blog mailbag at
vc4re@yahoo.com
. Your questions may be answered on my blog.
Be sure to use the
#talkinggiants
tag when referring to my article on twitter.
Don't forget to take my poll on the left of my blog.