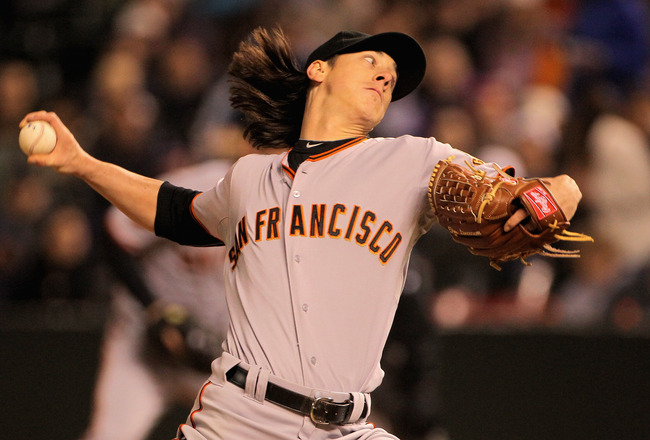 Whether it is a freezing foggy night in San Francisco or a sweltering hot day in LA, Tim Lincecum is always seen sporting his Giants hoody.
Doug Pensinger/Getty Images
Tim Lincecum
is the face of the
San Francisco Giants
, but in a time where team loyalty is down and money is king, is it possible that he and other beloved
Giants
will end up elsewhere?
If there was ever a pitcher in baseball who deserves a lifetime contract extension, it would be Tim Lincecum.
Lincecum's stay with the Giants has been nothing short of impressive. Since his start with the Giants in 2007, he has a career 3.00 ERA, with a 58-28 record, 939 strikeouts and 1.173 WHIP—plus Cy Young Awards in 2008 and 2009.
Back in February 2010, Tim Lincecum signed a two-year, $23 million contract with the Giants. Lincecum, 26, is under club control until at least 2013, but he will face another arbitration hearing at the end of the 2011 season if another deal is not made.
Whatever the price, the Giants are best served in signing their ace right-hander—who won the clinching game of the 2010 World Series—no matter the price. He is the heart and soul of the Giants, and the energy in San Francisco would deplete worse than the 1970s crisis if their Freak was racking up strikeouts for another team.
Here are four other players who deserve a contract extension and should play in San Francisco for a long time.
1. Buster Posey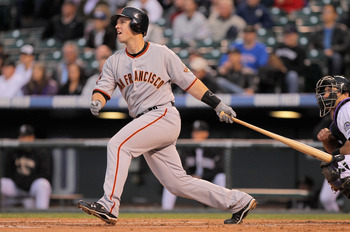 Doug Pensinger/Getty Images
Buster Posey is an exciting young talent who perhaps single-handedly led the Giants to their first World Series title in San Francisco—both with his hitting and the way he handled the pitching staff.
What Posey did in his rookie season was incredible. Coming up in May hoping to jolt the Giants' struggling offense, Posey hit .305 with 18 home runs and 67 RBI in 108 games. He also had a strong OPS of .862.
Most importantly, Posey has the poise of a 10-year veteran at just age 23. Handling a pitching staff in his rookie season with the likes of Lincecum, Matt Cain and Jonathan Sanchez is an impressive feat in itself.
Because the gutsy catcher will continue to get better, he deserves a contract extension. He is under team control until at least 2015 but is eligible for arbitration after this season (he signed a one-year, $575,000 contract with the Giants this past March).
2. Matt Cain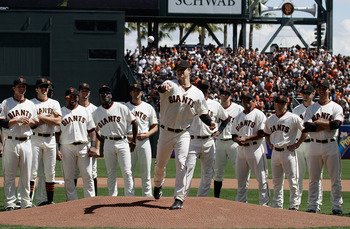 Pool/Getty Images
Matt Cain established himself as a big-game pitcher in 2010. He has yet to give up an earned run in the postseason, and he has followed it up by pitching well in 2011—minus one start at Coors Field, a pitcher's graveyard.
Matt Cain, 26, impressively makes his 91 mph fastball work. When he first came up to the big leagues, Cain threw 96-plus and tried to strike everyone out, but now, he learned how to pitch by manipulating his fastball movement and developing a good changeup.
Greg Maddux played for a long time with low velocity but lots of movement and control. There is no reason Cain cannot do the same.
In his Giants career, Cain is only 59-63, but he has a lifetime 3.45 ERA and a .230 batting average against.
Cain signed a $27.25 million, three-year contract in 2010, but the Giants would do no harm by signing him to a more long-term contract.
3. Brian Wilson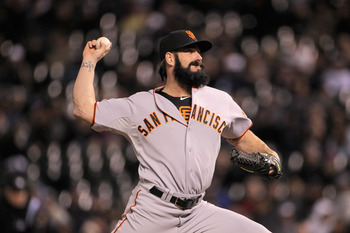 Doug Pensinger/Getty Images
Brian Wilson earned his paycheck in the 2010 postseason. Wilson provided Giants fans more torture than watching grandma's home movies, but the end result is worthy of a contract extension.
In his first playoff appearances, Wilson amassed six saves and 16 strikeouts in 10 games. Like Cain, Wilson did not give up an earned run in the postseason.
Wilson's two-year, $15 million contract extension he signed in March 2010 expires at the end of this year. He is eligible for arbitration after this season and will be a Giant until at least 2012, but the Giants should lock him up beyond that.
If they do not, it would kill the whole "Fear the beard" slogan.
4. Jonathan Sanchez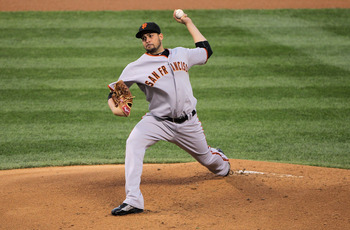 Doug Pensinger/Getty Images
Despite all the baserunners, walks and frustrations associated with Jonathan Sanchez, he is still a good major league pitcher. Although he led the National League in walks in 2010, Sanchez led the Giants with a 3.07 ERA, and he had a .204 batting average against.
Sanchez will be a Giant until at least 2012 but is eligible for arbitration after this season. He signed a one-year, $4.8 million deal before the 2011 season.
Sanchez, 28, gives Giants fans fits, but in the end, he is a formidable pitcher with electric stuff. On the days he can control his great stuff, he can pitch as well as Lincecum or Cain.
The Giants should give him a contract extension, but because of his inconsistency, perhaps one not as long or as large as Lincecum's or Cain's.
5. On the Fence: Pablo Sandoval, Madison Bumgarner, Sergio Romo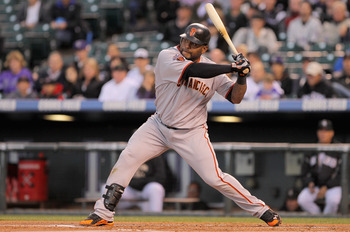 Doug Pensinger/Getty Images
Pablo Sandoval has not earned anything yet—and he knows it.
After batting .330 in 2009, Sandoval laid an egg in 2010. Sandoval helped his cause by losing the weight in the offseason, but his success or failure in 2011 and beyond will determine whether or not he will continue his Giants career long term.
Madison Bumgarner has been awful so far in 2011. He is 0-3 with a 7.73 ERA and batters are hitting .357 against him. He is not eligible for free agency until 2016, so the Giants have plenty of time to assess his worth.
Sergio Romo did not help his cause during Sunday's game against the
Braves
. He threw a hanging slider to Dan Uggla, which he hit for a game-tying, eighth-inning home run.
Romo is prone to giving up big home runs late. He did so during the NLDS in
Atlanta
and various times throughout the 2010 season. Romo did develop a good sinker this season, but the Giants might want somebody who throws harder pitching in the eighth inning.
Romo will not be a free agent until 2015, so the Giants have time to assess his worth. They need to know whether or not he will be the pitcher who throws a good, tight slider or the pitcher who hangs them.
Vinnie Cestone is a Baseball/San Francisco Giants Featured Columnist for The Bleacher Report. Unless otherwise noted, all information was obtained first-hand or from official materials from ESPN.com and MLB.com.
This article was featured on The Bleacher Report.
Follow me on twitter @vintalkingiants.
Questions or comments? E-mail my blog mailbag at vc4re@yahoo.com. Your questions may be answered on my blog.
Be sure to use the #talkinggiants tag when referring to my article on twitter.
Don't forget to take my poll on the left of my blog.