By Vinnie Cestone


Getty Images


The
San Francisco Giants
' No. 1 draft pick Gary Brown is a dynamic baseball player with a potent bat and excellent defensive potential, but his blazing speed sets him apart from other players.
Brown demonstrated his talent early while playing college baseball for Cal State Fullerton University. He was a First Team All-American as a junior in 2010, and he once stole 32 bases in a 50-game period during his college career.
Gary Brown is currently using his legs to fuel the San Jose Giants', the Class A affiliate of the San Francisco Giants, winning ways. Although he is still a bit raw and has a lot to learn, the Giants are confident he will be the next spark plug at the top of the order in San Francisco.
Here are five reasons as to how Brown's speed might benefit the big club in the next year or two.
Stealing Bases
Christian Petersen/Getty Images
The Giants currently rank 20th in Major League Baseball in stolen bases, a dimension of their game they would like to improve upon.
Fortunately for the Giants, help is on the way.
As of May 28, 2011, Brown leads the California League in stolen bases with 28. Although he steals bases at a rate slightly above average, 70 percent, he will likely improve upon that percentage.
Brown said he is confident that him being a steal threat will help his team win ball games, especially by putting pressure on the defense.
"I'm just trying to get there, be in people's minds, and mess with the defense," Brown said. "Anyway to get into the pitcher's head."
In a post-steroid era, the Giants could use stolen bases from Brown to manufacture runs. It would be a welcome change for the Giants to steal more bases than they allow.
Scoring Runs
Tommy LaPorte/San Jose Giants




The Giants currently stand 15th in the National League in runs scored as of May 29, 2011. If the Giants are going to rely on pitching and defense to win ball games, Brown's speed producing runs will be vital.
The Giants, with Darren Ford, saw first hand in 2010 how speed can help a team score big runs. Brown may do the same for them.
Brown is third in the California League in runs scored. He averages just about one run scored per game, leading the A Giants with 47 runs scored in 48 games.
It could be exciting to see Brown's speed in action when he hits balls out to the 421 marker, Triples Alley, at AT&T park. Legging out triples is familiar territory for him—and so is going around the horn the hard way.
"My first career home run in pro ball was an inside the parker in Visalia," Brown said. "It was fun. Your legs want to give out by the time you touch home, but it was good."
Although Brown can be a run-making machine with his legs, he said he understands that he cannot do all the work solo.
"The thing about running is you can't produce a run by yourself," Brown said.
"Someone's got to do something to help you, whether it be the pitcher throwing it away or a guy putting it in play, but you just put yourslef in the best situation to rattle the pitcher up and maybe make him make a mistake to the guy hitting."
Getting on Base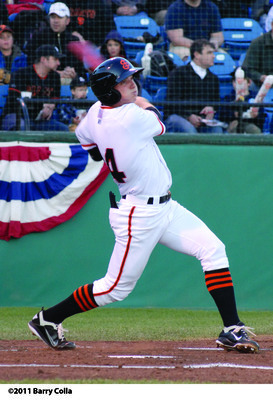 Brown might be the perfect remedy for a baseball team struggling to get on base.
The Giants are at the bottom of the National League in runs scored, largely because of their .306 on-base percentage. Brown's ability to get on base and leg out infield hits could give the Giants a huge jolt to their offense.
"You want to get a hit every game and do your best to put yourself in a position do that," Brown said. "I want to win ball games."
Brown said he looks forward to drag bunting for hits, but he will not do so without thinking. He may look for certain signs and signals that tell him it is a good time for a bunt, or he may just trust his gut feeling.
"The game dictates it [when to drag bunt]," Brown said. "For the most part, I like to see the third baseman back. I see a lot of third baseman in. It's got to be a good bunt and I gotta be feeling it."
Brown's speed and ability to get on base could aid him in coming close to Joe DiMaggio's 56-game hitting streak, but he said that is the furthest thing from his mind.
"That's something I have never thought about," Brown said. "I'll take a 56-game win streak. I wanna win ball games."
Taking the Extra Base
The Giants are a station-to-station baserunning team, but their young, center-field prospect is anything but that.

Faster than a speeding bullet, Brown can get himself an extra 90 feet by stretching singles into doubles or legging out triples out in the wide open spaces of AT&T Park.

In one game in April against the Lancaster JetHawks, Brown took a routine single up the middle and pulled a rabbit out of his hat by legging out a double.

As Municipal stadium was in awe from Brown's spectacular performance, he was not surprised that he pulled off that trick.

"I've been watching the outfield and trying to be a student of the game," Brown said. "They've been lobbing the ball into their cut-off man, so I took a big turn and waited for them to throw it, and once he let go of the ball, I went ahead and took off for second."

Although Brown said he wants to play his game by being aggressive on the basepaths, he understands that he must be mindful of the game situation.

"The game dictates the situation," Brown said. "If there's two outs and you have the opportunity to be in scoring position, sometimes there's no point in taking third unless you're standing up. It all depends on where the ball is hit, where it's taking the outfielder, and what I see. That's all in the game."

Brown currently leads the A Giants with 22 extra-base hits in 48 games, and many more might be coming once he takes on Triple's Alley at AT&T Park.
Being a Good Center Fielder
The Giants have not exactly put on a defensive clinic in 2011, but their range in the outfield could be worlds better once Brown patrols center field at AT&T Park.

Brown's defensive numbers are good for his first year playing professional baseball. In 44 games at center field for the A Giants, he has a .978 fielding percentage with two errors and four assists.

Brown said he is confident that his speed can help him become a solid center fielder for the Giants.

Still, he said he knows that he has to use his speed wisely before being ready to play center field every day at the major league level. Speed alone is not what will make him a good outfielder—but it will help.

"I'm still working on my defense every day, trying to get better," Brown said. "Most importantly, it's your first step and the routes you take. The shortest distance between two places is a straight line...and speed just helps when you make a mistake...and obviously, those balls way in the gap."





Vinnie Cestone is a Baseball/San Francisco Giants blogger for The Talking Giants Baseball Blog. Unless otherwise noted, all information was obtained first-hand or from official materials from the San Jose Giants, www.sfgiants.com, or www.sjgiants.com.

This article was featured on The Bleacher Report.

Follow me on twitter @vintalkingiants.

Questions or comments? E-mail my blog mailbag at vc4re@yahoo.com. Your questions may be answered on my blog.

Be sure to use the #talkinggiants tag when referring to my article on twitter.

Don't forget to take my poll on the left of the site