Title also known as "
San Francisco Giants: Will 2011's Jonathan Sanchez Be Dr. Jekyll or Mr. Hyde?"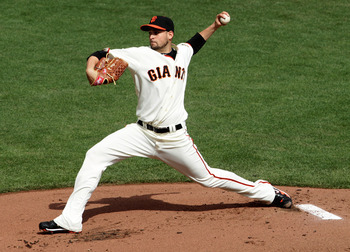 Photo from Justin Sullivan/Getty Images
Revert back to July 10, 2009. After struggling earlier in that season, Jonathan Sanchez, after being banished to the bullpen, spot started for the injured Randy Johnson.
The result on that fateful night was a dazzling performance against the San Diego Padres, as he no-hit them in an 8-0 rout. Not a single walk tainted Sanchez's line.
Fast forward to Oct. 23, 2010. The Giants are battling the Phillies in Game 6 of the National League Championship Series in Philadelphia, needing a big start from their left-handed hurler.
Although the Giants ended up winning the clinching NLCS game, Jonathan Sanchez had a night to forget, lasting just two innings, while walking two and surrendering two runs. His night came to a close after he drilled Chase Utley on the back, leading to a Sanchez/Utley confrontation where Utley flipped the baseball back to the mound after he was hit.
Such is the inconsistency of the Giants' left-handed enigma, Jonathan Sanchez. On one night, he can look just as good as Lincecum or Cain, but on another night, he makes Todd Wellemeyer look like Cy Young.
One might think of Sanchez like Dr. Jekyll and Mr. Hyde. While he has all the upside in the world and had a fine 2010 season, his immaturity showed in the postseason, and he led the National League in walks.
Will Sanchez show progress in 2011, or will he regress?
Here are five reasons why one might be high on Jonathan Sanchez and five reasons why one might be skeptical about the left-hander.
The Good Outlook: 1. Falling ERA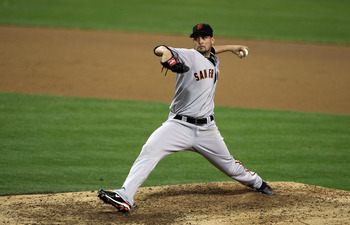 Donald Miralle/Getty Images
Earned run average is a good indicator of how good a pitcher is, so a falling ERA is a good sign for Sanchez.
Since his first full season in 2008, Sanchez's ERA has shown improvement year-to-year. In 2008, his ERA was a poor 5.01, but fell to 4.24 in 2009 before reaching a solid 3.07 in 2010.
Although Sanchez led the league in free passes in 2010, Sanchez has learned to effectively pitch around them. For example, in his game against San Diego on Sept. 10 at Petco, Sanchez issued seven walks in five innings, but gave up no runs.
It may not be pretty, but the bottom line is that Sanchez puts up zeros more often than not, which is a hopeful sign for 2011.
2. Falling WHIP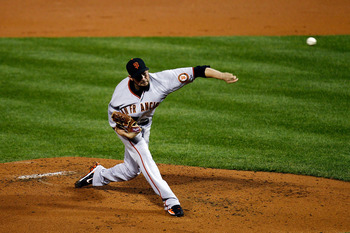 Jeff Zelevansky/Getty Images
Although Sanchez's walk total remained high in 2010, his WHIP (walks plus hits per inning pitched) has decreased every full season he has pitched. His WHIP in 2010 remained low because he did not give up many hits.
When Sanchez pitched his first full season, his WHIP was a mediocre 1.45. In 2009, it dipped to 1.37 and fell to a respectable 1.23 in 2010.
Considering Sanchez's high 2010 walk total of 96, it is remarkable how his WHIP was below average. Both his ERA and WHIP have almost solely been lowered by reducing his hits per nine innings throughout his career, leaving Sanchez with respectable pitching numbers.
If he and pitching coach Dave Righetti can harness his control a bit better, Sanchez may contend for the Cy Young Award in 2011.
3. He Is Hard To Hit
Doug Pensinger/Getty Images
Sanchez usually creates jams because of his lack of control, but he still is not a comfortable at-bat.
In 2010, Sanchez had the lowest batting average against him in the major leagues. His .204 batting average against him even beat out Ubaldo Jimenez, who was at a .209 mark.
Anytime when total hits allowed is less than total innings pitched, that is a good range for a pitcher to be in. In 2010, Sanchez gave up just 142 hits in 193.1 innings pitched.
Just like his other stats, his progression over the years in opponent's batting average is a hopeful sign for him in 2011. In 2008, players hit .257 against Sanchez, followed by .221 in 2009.
4. He Has Electric Stuff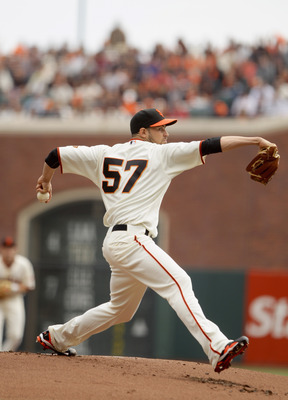 Ezra Shaw/Getty Images
Sanchez is almost like a young Randy Johnson -- without the 98+ mile per hour fastball. Like Sanchez, he had nasty stuff and was near unhittable, but gave up as many as 152 walks in a single season.
Oddly enough, Sanchez grew up idolizing Randy Johnson and played with him in 2009. Could Johnson have taken Sanchez under his wing, which led to his drastic improvement in 2010?
On July 10, 2009, Sanchez demonstrated what could happen if he could harness his stuff. With his sneaky fast 91-93 mph fastball and a sharp slider almost as devastating as Johnson's, Sanchez no-hit the Padres out of nowhere -- on a spot start for none other than Randy Johnson.
Sanchez also features a nasty split-finger that runs away from right-handed hitters.
Unlike his earlier years, Sanchez showed that he can pitch around his walks and errors -- except in the NLCS. If he continues his year-to-year pattern of maturation , Sanchez should be even better at pitching through adversity in 2011.
5. He Now Has Postseason Experience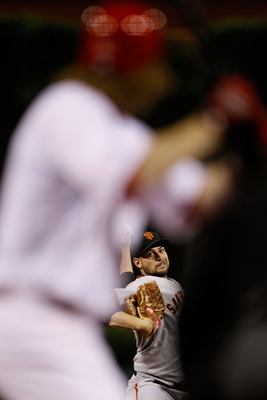 Pool/Getty Images
Call Jonathan Sanchez whatever you would like, but the reality is that he pitched for a team who won the World Series. Although Sanchez showed brain lapses during the postseason, he has nowhere to go but up and can learn from his mistakes.
Anytime a pitcher takes the mound in his first postseason, it will not be easy for him -- unless he is Madison Bumgarner. Right away, he will notice that the intensity of the crowd is different, the players are more focused, and the big game feel.
Sanchez proved capable in pitching big games in 2010. He had an ERA below two in September, and he pitched strong games in the NL West clincher and Game 3 of the NLDS.
With the postseason experience under his belt, Sanchez might channel his frustration a bit differently -- such as striking out Utley with a blazing fastball rather than arguing with him and lighting a fire under his belly. If Sanchez continues to get better season-by-season, perhaps he will show growth deep into the postseason as well.
This article was featured on the Bleacher Report

Follow me on twitter @vintalkingiants
Questions? Comments? Feedback? E-mail my blog mailbag at vc4re@yahoo.com. Your question may be posted on my blog, along with answers.