Many of the top free agents already signed with their new teams, but plenty of good talent is still up for grabs.
If there was one lesson to be learned from the 2010 World Series champion San Francisco Giants, it was that contributions can come from those in the bargain bin. While the current free agent list may not be the best to chose from, this collection of players might just become the next rag-tag group of misfits.
Currently, who is the top free agent out there? Will one of them help a team get into the playoffs and beyond?
Here is a ranking of the top 10 free agent hitters that remain on the market.
1. Vladimir Guerrero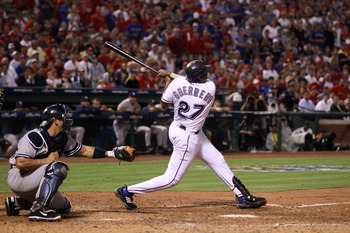 Elsa/Getty Images
Vladimir Guerrero may be 35, but he can still hit like he's 25.
In 2010, his .300 average, 29 home runs, and 115 RBIs helped the Rangers get to the World Series. With these stellar offensive numbers, Guerrero is no doubt the best hitting position player on the free agent market.
Although he played a few games in the outfield in 2010, Guerrero is best suited for the DH role with an American League team, as shown by his abysmal outfield play during the World Series.
2. Manny Ramirez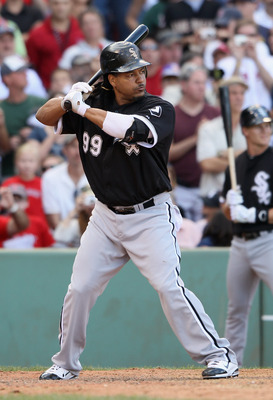 Elsa/Getty Images
Manny Ramirez is no doubt best suited for the DH role, but he still has a quick bat that any American League team can use. In 2010, Ramirez hit .298, with just nine home runs and 42 RBIs in 90 games, but had a .409 on-base percentage.
Ramirez may not be the power threat he once was, but he is still a presence at the plate and is still feared by pitchers.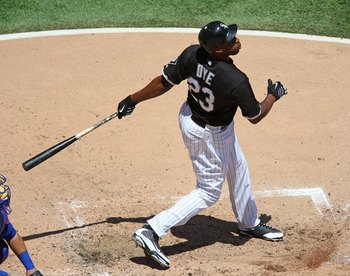 Jonathan Daniel/Getty Images
According to Ken Rosenthal of Fox Sports, Jermaine Dye intends to play in 2011 and has been contacted by the Rockies, Phillies, and Rays.
In 2009, his last full season, Dye proved that he still had something to offer. That year, Dye hit .250, with 27 home runs and 81 RBIs.
Now, as Dye turns 37, Rosenthal said via twitter that he could be an intriguing righty bat. However, he is an awful defensive outfielder, but Rosenthal also tweeted that Dye will probably latch on somewhere.
4. Russell Branyan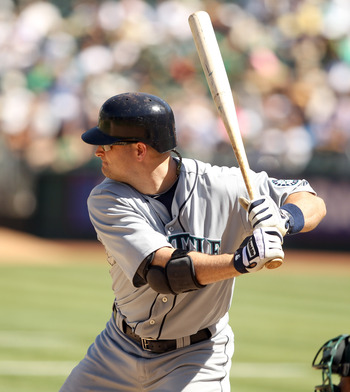 Ezra Shaw/Getty Images
Branyan can hit the long ball, but struggles to hit for average or get on base. It is either outhouse or castle for him.
In 2010, Branyan hit .237, with 25 home runs and 57 RBIs, for Seattle and Cleveland. His career high is the 31 homers he hit in 2009.
Even though he strikes out a lot, he can still bring a little pop as a DH.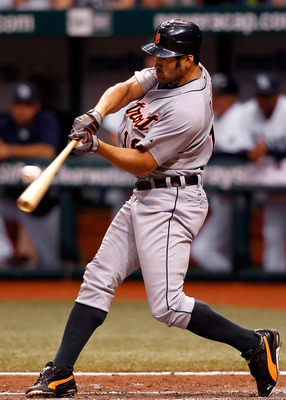 J. Meric/Getty Images
The latest on Johnny Damon was that the Angels and Rays were interested in his services, according to Jon Heyman of SI.com. Heyman also noted that Damon, like many others on this list, is a defensive liability.
At 37 years old, Damon is best suited for the DH role. In 2010, Damon hit .271, with eight home runs and 51 RBIs for Detroit.
Heyman said the Angels could potentially stick Damon at the top of their lineup.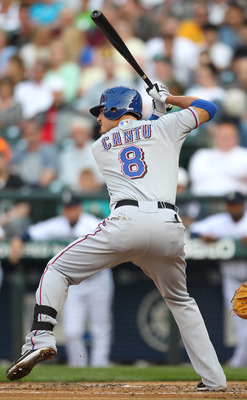 Otto Greule Jr/Getty Images
The 2010 campaign was a down year for Cantu. In his worst full season as a big leaguer, Cantu hit just .256, with 11 home runs and 56 RBIs.

When healthy, Cantu can be a legitimate power threat. In 155 games played in 2008, he hit a career high 29 home runs.

Although he can play all around the infield, Cantu's best position is first base. He can, however, play second and third base, and he has even played at shortstop.

With Cantu's down season, he may be a cheap option on the free agent market. If he can stay healthy, he might rebound and put up decent numbers in 2011.

...

The rest is coming on the next post.