This article is also known as "
San Francisco Giants: Will 2011's Jonathan Sanchez Be Dr. Jekyll or Mr. Hyde?"
The Bad Outlook: 6. Increasing Walk Total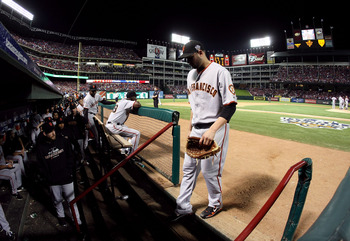 Elsa/Getty Images
Although Sanchez is a dynamic pitcher who is tough to hit, his high walk total is a concern.
At some point, one might wonder how long he will be able to get away with surrendering so many free passes. In 2010, Sanchez walked a major league leading 96 batters but seemed to get away with it, as he posted a 3.07 ERA and a WHIP of only 1.23.
Eventually, if Sanchez keeps tempting fate, the walks are probably going to come back to bite him. Consistently walking people almost always hurts a pitcher in the long run.
Not to mention, the amount of high stress pitches he makes, and all the extra pitches, due to walks can take a toll on Sanchez's body. A pitching arm can be a delicate thing, and if it wears out, a plethora of three-run home runs could be coming in 2011.
For the sake of the longevity of his career, Sanchez needs to pound the strike zone more often. Randy Johnson's transformation into more of a control pitcher might have extended his greatness for a few more years, and Sanchez needs to make the same transformation if he wants to pitch until he is 40.
7. His Inconsistency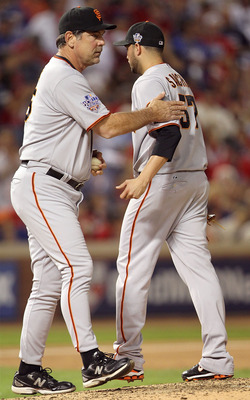 Ronald Martinez/Getty Images
On the night of Jonathan Sanchez's 2009 no-hitter, former Padres' outfielder Tony Gwynn Jr. described Sanchez's inconsistencies best when he said, "On film he throws the ball hard, but it looks like he doesn't know where it's going. Today he looked exactly like he knew where it was going."
On one night, Sanchez can sparkle like he did on the night of his no-hitter. On another night, his line might look like this: 5 IP, 1 hit, 7 BB, 4 K, 0 Runs.
Worse, he might completely fall apart on another night and allow a five spot in his run column, like he did against the Florida Marlins on July 28th. His games seem to fluctuate from start-to-start, and sometimes, you simply cannot rely on him to pitch a quality start.
In a sport where consistency can mean everything, Sanchez struggles to be as reliable as a Greg Maddux. If he cannot be counted on to pitch well during tight, close, or important games, the bullpen could be a reality for Sanchez in 2011 -- a possible reason why the Giants signed a sixth starter in Jeff Suppan.
8. It's Easy To Get Into His Head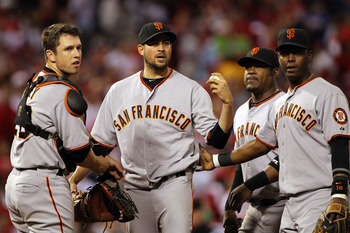 Doug Pensinger/Getty Images
If a team's strategy was to beat Sanchez by getting into his head, that would probably be its best bet.
Sanchez, in the biggest game of his life, showed why he was not ready to pitch under the lights of postseason play -- and it showed up on his line.
After drilling Chase Utley in the back with the score tied 2-2, he casually flipped the ball back to the pitcher's mound. Angered by this, Sanchez barked back at Utley, leading to a benches clearing altercation and Jonathan Sanchez's removal from the game by Bruce Bochy.
Sanchez's overreaction illustrates his immaturity. Instead of letting it go, he made things worse than they actually were, even though Utley should have probably left the ball alone.
Mychael Urban of CSN Bay Area had a very good take on the issue on his blog. What Utley did was not really "malicious or totally out of line," but Sanchez felt that he had to say something.
Sanchez would no longer be a factor in that game after the incident. The end result of the game may have worked out for the Giants that time, but it was not because of Sanchez's pitching.
More brain lapses like that can mean a miserable 2011 for Sanchez. However, a good therapist might be able to solve that problem, but he must get his head right in a game that is arguably mostly mental.
9. His High Pitch Count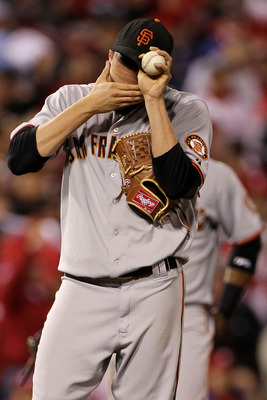 Doug Pensinger/Getty Images

As mentioned earlier, Sanchez's high pitch count, mostly due to his high walks and strikeouts, can be detrimental to both his pitching and health. He was 15th in all of baseball in pitches per inning pitched, which is something he needs to improve upon as a starter.

It would not be so bad if Sanchez did not throw so many pitches in such stressful situations. If there was a stat measuring this (maybe total pitches with runners in scoring position), Sanchez would surely be a league leader in this category.

Eventually, this will catch up with Sanchez, either in the form of three-run homers, a long stint in the bullpen, or a career-ending arm injury. His electric stuff will mean nothing in 2011, and in the long run, if he cannot use it more efficiently.
10. He Does Not Always Think Things Through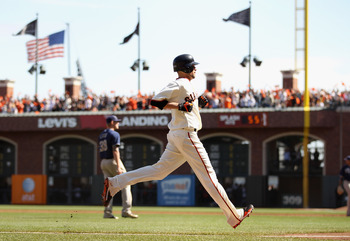 Ezra Shaw/Getty Images
Along the lines of point number nine, Sanchez does not yet understand the mental aspect of baseball. He clearly showed this when he inaccurately called a sweep against the San Diego Padres in August.
This was the worst thing he could have done. Not only did it motivate the Padres, but it also made him look bad around baseball.
Guaranteeing a sweep is not a smart idea, especially in baseball where it is hard to sweep a team. It would be one thing if Sanchez said, "we are going to show the Padres why we are a good team," but calling a sweep -- a humiliating experience for any team -- in front of the media was just out of line.
Andrew Baggarly of the San Jose Mercury News wrote it best in his blog when he stated, "Jonathan Sanchez doesn't really qualify as a team spokesperson."
Maybe he should have let the Giants' Jim Moorehead, senior director of media relations, speak for the team.
In that Padres' series, Sanchez ended up with the losing decision in one of the games. Hopefully, he learned his lesson to think before he speaks.
If Sanchez continues to make such statements, other teams might give that extra effort against him at the plate. That energy might be channeled through a big home run in a crucial game down the stretch.
Questions? Comments? Feedback? E-mail my blog mailbag at vc4re@yahoo.com. Your question may be posted on my blog, along with answers.
Follow me on twitter @vintalkingiants
This article was featured on the Bleacher Report

Follow me on twitter @vintalkingiants
Questions? Comments? Feedback? E-mail my blog mailbag at vc4re@yahoo.com. Your question may be posted on my blog, along with answers.