The
San Francisco Giants
may become just a little less crowded in the outfield on Opening Day.
The
Giants
suffered a big blow during Wednesday's spring training contest against the Los Angeles
Angels
, who won the game 8-0. The score and Matt Cain's atrocious start were the least of the Giants' concerns, as
Cody Ross pulled up lame coming in on a line drive to right field.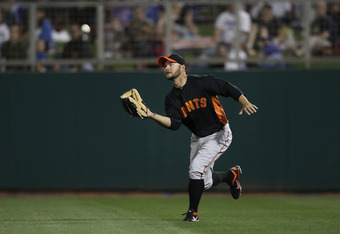 When healthy, Ross is a good right fielder.
Christian Petersen/Getty Images
Ross left the game in the first inning with a strained right calf muscle.
According to MLB.com
, his immediate playing status remains uncertain, pending the results of an MRI Thursday, but playing on Opening Day against the
Los Angeles Dodgers
may be questionable.
Bochy has some interesting options in filling Ross' spot. Will rookie Brandon Belt or the maligned veteran Aaron Rowand benefit from Ross' injury?
Assuming Ross is unable to start the season, here is the current state of the Giants' outfield as the Giants break camp next week.
Andres Torres
It seems as if he is penciled in to be the starting center fielder, even if Rowand replaces Ross on the field. Bochy has inserted Rowand in the corner outfield positions this spring to prepare for a change from his native center field position.
Pat Burrell
Mychael Urban of
CSNBayArea.com
said he believes Burrell was the front-runner to start in left field before Ross' injury. Urban also said that Brandon Belt may start at first base with Aubrey Huff moving to the outfield.
Aubrey Huff
With Ross' injury, Huff just might be patrolling a corner outfield position in next Thursday's opener. Urban added that the Giants like Belt's bat and are confident he can handle first base. This appears to be the likely scenario if Belt continues to play well for the rest of spring training.
Aaron Rowand
His hitting is atrocious, but he has a decent glove. He will have a shot to prove himself with Ross' injury, as the Giants will probably move people around until Ross comes back.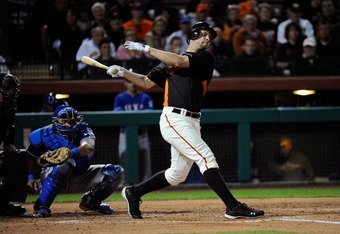 Brandon Belt could start at first base next week at Dodger Stadium.
Kevork Djansezian/Getty Images
Nate Schierholtz
He is an exceptional fielder with a great arm, but he is out of options. Because of this, Urban said he might be given a shot to start right field. From an offensive standpoint, Huff in right field and Burrell in left make the most sense.
Mark DeRosa
He played some left field for the Giants in 2010, but the team would rather have him bounce around the infield. However, DeRosa has hit the ball hard this spring and could force himself into the lineup, whether in the outfield or the infield (with Huff moving to the outfield).
Cody Ross
Do not completely rule out Ross. If Thursday's MRI goes well, he might patrol right field on Opening Day after all. However, given how the injury looked, this probably will not happen.
Predicted outfield on Opening Day
LF: Pat Burrell
CF: Andres Torres
RF: Aubrey Huff (with Belt at first)
The bottom line is the Giants are a versatile team who are well-equipped for a situation like Ross' injury. If Belt can contribute and continue his good plate approach, the Giants might not miss Ross all that much while he is healing from his calf injury.
Follow me on twitter @vintalkingiants.
Questions or comments? E-mail my blog mailbag at vc4re@yahoo.com. Your answer may be posted on my blog.
This article was also featured on The Bleacher Report.
Also, check my Patch.com work. Click here.