Cain throws six shutout innings in 10-0 victory over Dodgers.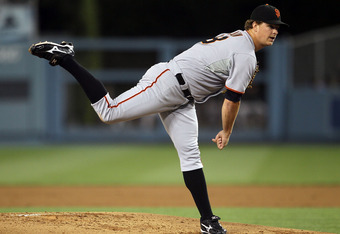 Jeff Gross/Getty Images
The San Francisco Giants earned their first win of the year the way they drew it up all season long.
Strong starting pitching, timely hits, a shutdown bullpen, and a vacuum defense (to what they could get to) was the winning formula back in 2010. The Giants cooked up this victorious recipe for the sore stomachs of 40,809 hungry Dodger fans at Chavez Ravine.
Matt Cain (1-0) silenced the crowd with a dominant pitching performance -- a continuation from his stellar postseason. With his fastball and off-speed command as impeccable as a dart thrower, his six shutout innings of five-hit, walk-free ball gave the crowd the Dodgers blues.
Cain was removed after the sixth inning, possibly as a precautionary measure. Although Cain was sidelined in spring training with an elbow injury, he said he could have gone longer in today's game.
"You always want to keep going...but it's alright to take one off," Cain said.
The Giants did what they could not do the first two games -- excel in all facets of the game. The Giants got clutch RBI hits in Saturday's game from Aubrey Huff, Freddy Sanchez, and Mark DeRosa.
Huff (2-for-4) and Sanchez (3-for-4, 1 walk) each had three RBIs, including an eighth inning solo blast from Sanchez. The Giants ended the day 7-for-17 with runners in scoring position, a far cry from the previous two games.
The Giants scored first when DeRosa and Aaron Rowand started the third inning with singles. They were promptly moved over on a Cain sacrifice bunt, and DeRosa was brought in by a Miguel Tejada (2-for-5) RBI groundout.
The Giants pounced on Dodgers left-hander Ted Lilly (0-1) once again, scoring four earned runs on six hits in four and two-thirds innings against him. His balk in the fifth inning fueled a three-run rally.
Manager Bruce Bochy was pleased with the way his clubbed played good, fundamental baseball, manufacturing runs with timely hits and strong situational at bats. Before Saturday's game, the Giants scored all four of their previous runs by the way of the home run.
"You hate to live and die by the long ball," Bochy said. "You got to find ways to manufacture runs and get clutch hits during the course of a ball game. This lineup is more balanced, and it is a lineup that can keep the lineup moving more consistently than the past."
Bochy batted Tejada leadoff, the first time the shortstop assumed that lineup position since 1999 with Oakland Athletics. Tejada is ready for any challenge put in front of him.
"Any spot you're going to put me, I'm going to do my job," Tejada said.
The Giants did their job defensively as well, making all the routine plays error free and more. Aubrey Huff hardly looked like a water buffalo in right field, as he dove for and caught a Tony Gwynn Jr. looping liner.
In the previous two games, the Giants made a combined five errors.
The Giants bullpen was stellar after relieving Cain, the winning pitcher. Relievers Javier Lopez, Ramon Ramirez, and Jeremy Affeldt combined for three shutout innings.
Tejada hopes the Giants' spring training roll will further carry over to the regular season.
"We did it in spring training, and we hope we continue what we did today," Tejada said
Spring training is complete, and the bell has rung. The Giants finally answered the door on a positive note.
...
The Giants did exactly what they had to do to win. They played their game and were rewarded with the winning result.
What the Giants did is play good fundamental baseball, and they established they were going to do that right off the bat. After two consecutive singles from DeRosa and Rowand, Cain bunted both runners over, something Lincecum could not do in the opener in a similar situation. Tejada would then hit a ground ball to the right side, scoring DeRosa -- the only run they needed to win.
Another piece of smart baseball was displayed by DeRosa at third base in the top of the fourth inning. Andre Ethier hit a slow chop to DeRosa, who had no chance of throwing Ethier out at first.
Pablo Sandoval was in a similar situation during last night's nightmare sixth inning. Aaron Miles hit a swinging bunt to Sandoval, who also had no chance to throw out the runner dashing towards first. Sandoval, probably due to his youthful aggressiveness, fired a desperation throw to first only to throw it away and fueling the Dodgers' three-run, sixth-inning rally.
Seasoned veteran Mark DeRosa, in contrast, knew he had no chance at throwing out Ethier, so he did what his experience told him -- he held on to the ball. This kept the runner at first and allowed the double play to stay in order, and sure enough, the next batter, Matt Kemp, rolled into a twin killing.
Unfortunately for Jonathan Sanchez and the Giants, in last night's game, Rod Barajas was already on first when Sandoval made the throwing error with two outs. The miscue allowed Barajas to get to third and Miles to second.
This is significant because the next batter, Hector Gimenez, hit another swinging bunt that Jonathan Sanchez misplayed because he was paying attention to Barajas coming home from third. Had Gimenez hit the same ball without Sandoval's throwing error, there would be no runner to distract Sanchez (runners would be at first and second), and Sanchez most likely makes that play to end the inning with the Giants leading 3-2.
The little things may not seem all that significant, but the simple choice to hold the ball, rather than throw it, can be the difference between a win or a loss, especially in a one run game. Sometimes, you just have no play.
The bottom line is the Giants won the game because they played error-free baseball, and Matt Cain was outstanding. Pitching and defense is a formula for success in the major leagues, as the Giants saw that first hand in Saturday's game.
It is great to see Matt Cain evolve from a power thrower who tried to strike everybody out to more of a finesse pitcher, mixing in more off-speed pitches than he did in the past. He used the curveball to steal first-pitch strikes, and even with his fastball cruising at 91-93 mph, the movement, combined with his precise control, was a nightmare for Dodger hitters.
The Giants will try for their second win of the year on their third nationally televised game in four days. Barry Zito will take on Hiroki Kuroda at 5:00 p.m.
This article was featured on

The Talking Giants Baseball Blog
Follow me on twitter

@vintalkingiants
Questions or comments? E-mail my blog mailbag at

vc4re@yahoo.com

. Your questions may be answered on my blog.
This article was featured on The Bleacher Report.